Professional laundry and finishing services
Cathy's Cleaners uses Sanitone's exclusive Platinum® Shirt & Laundry Process, which guarantees the whitest-whites and brightest colors with clean, crisp collars and cuffs to make you look professional all day long. The Sanitone Platinum Process is specifically formulated to work at lower water temperatures through the use of 14 high-tech enzymes, eliminating the need for harsh bleaches and abrasive alkalis that attack clothing fibers. This exclusive, patented process reduces the potential for shrinkage, graying and even fraying, primarily because enzymes, by nature, only digest specific stains, not fibers!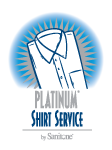 Our professional shirt laundering gives you whiter whites, bolder colors. Loose buttons are reattached or replaced as a routine part of our service. We guarantee your satisfaction on our Platinum Shirt Service, because our reputation depends on every shirt we do, folded or hanger, starch or none.
What to expect
Patented enzyme-based cleaning process
Dazzling whites and colors that sparkle
Lower water temperatures without harsh bleaches
None of the shrinking or fraying seen with other processes